The U.S. Secret Service is charged with protecting the nation's highest elected leaders and foreign dignitaries, as well as safeguarding America's financial infrastructure and payment systems. In 2019, the agency turned to ecucomm for a multi-channel recruitment initiative deploying targeted online and offline media assets across the nation.
Our creative strategy focused on:
Communications Strategy and Planning
Web Design and Usability Testing
Talent Acquisition
Digital Media & Analytics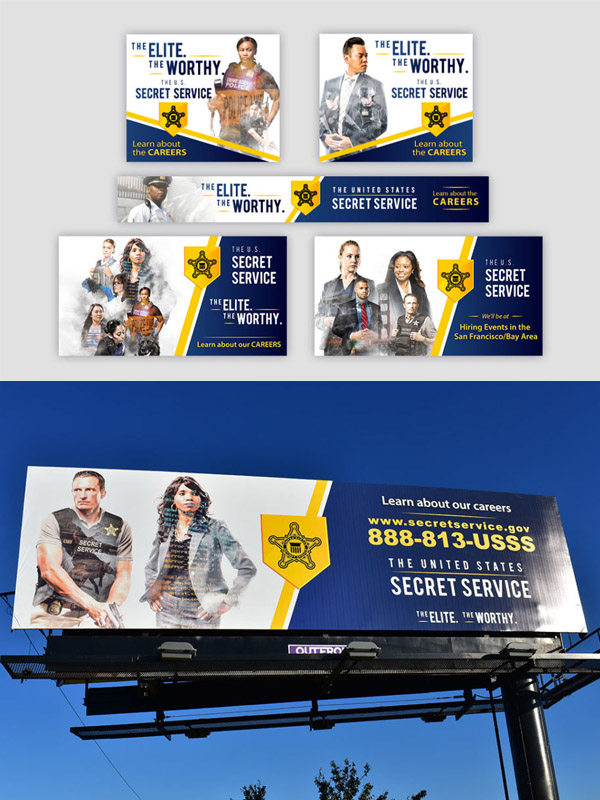 Increase in new user traffic
web and social media impressions
billboard impressions in 12 weeks
Recruitment objectives targeted specific careers in high demand, showcased the uniqueness of the U.S. Secret Service mission, and established a steady pipeline of highly qualified, culturally diverse candidates for mission-critical and support positions across the organization. Among other highlights, ecucomm's display ads outperformed other law enforcement campaigns by 857.17%.
Key Facts
Placed national, regional, and local recruitment advertising to support ongoing hiring initiatives and hard-to-fill openings.
Planned and managed logistics for diversified special recruiting events.
Customized campaign strategies for hard-to-fill positions.
Advanced the U.S. Secret Service brand and developed messaging through digital and other media platforms.
Extensively grew the U.S. Secret Service presence on LinkedIn, where followers now number 150K+.